Kyambura Lodge is situated at the eastern edge of Queen Elizabeth National Park, in the western part of the great East African Rift valley, with fantastic views over the national park and the Rwenzori Mountains and at a short distance from the Kyambura Gorge.
Queen Elizabeth National Park hosts almost 100 mammal species and a remarkable 606 bird species makes this superb safari territory, with elephant, a profusion of hippos, the elusive giant forest hog and handsome Uganda kob all regularly sighted. The remote Ishasha Sector is famed for its tree-climbing lions, the Kyambura Gorge harbours habituated chimps, the Maramagambo Forest is home to an alluring selection of forest monkeys and birds, and flocks of flamingo are resident on the crater lakes.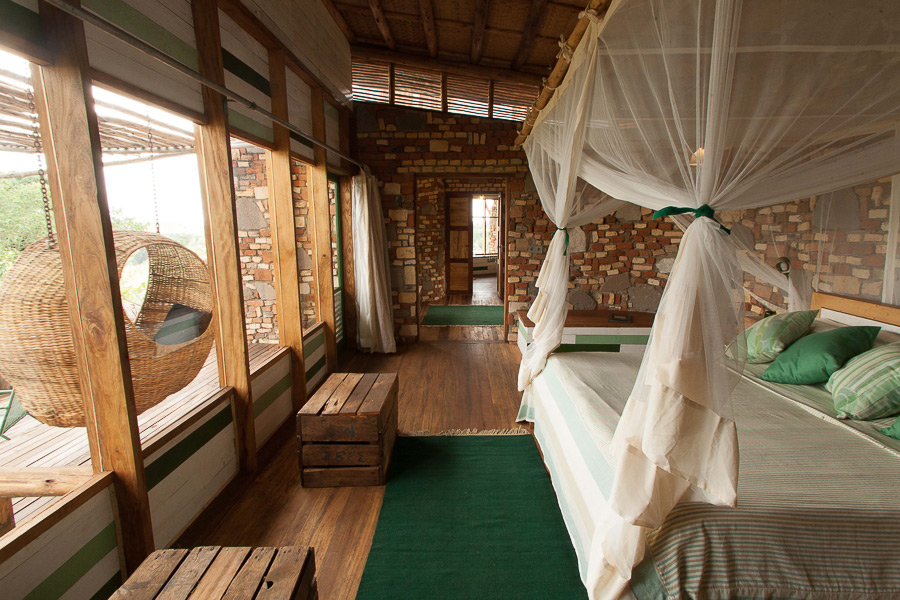 The lodge has been built using environmentally friendly local materials fitted by a local community workmanship. Accommodation is provided in seven spacious and tastefully designed self contained grass-thatched cottages, with bath tabs/showers with views to the park, running hot and cold water, equipped with 220v electricity and a private wooden balcony perched over Queen Elisabeth National Park. All cottages are privately spaced out in a shrubbery surrounding for proper environment conservation. We have a swimming pool, adjacent to the campfire where a local traditional dance is often performed (Banyaruguru troupe).
The restaurant and the lounge/bar/fireplace are opened towards a sundowner deck overlooking the park for relaxation in the evenings while winding up the day's activities. The kitchen features international and local cuisine, several-course meals are mainly prepared with organic vegetables from our own garden and served by our friendly and professionally trained staff.
Connect with us on Social Media
Call us on +254 720 824 502 / +254 720 823 229 for this Holiday Package
Visit our WEBSITE  for more offers