If you are planning a safari holiday to Kenya, the Masai Mara is one destination where a visit is a must. The "Mara" is the most popular of the many national parks and game reserves and is renowned for its abundant wildlife, the annual migration and its diversity providing a balanced environment. What better way is there to enjoy all of these other than in sheer luxury?
 Mahali Mzuri
Not that the chance to visit Mahali Mzuri would be easy to pass up. After all, who wouldn't want to see Africa through the eyes of someone who has seen more than most; a modern day visionary whose team wants to introduce you to their idea of the "perfect African escape"? Consider this your personal invitation from Sir Richard Branson himself…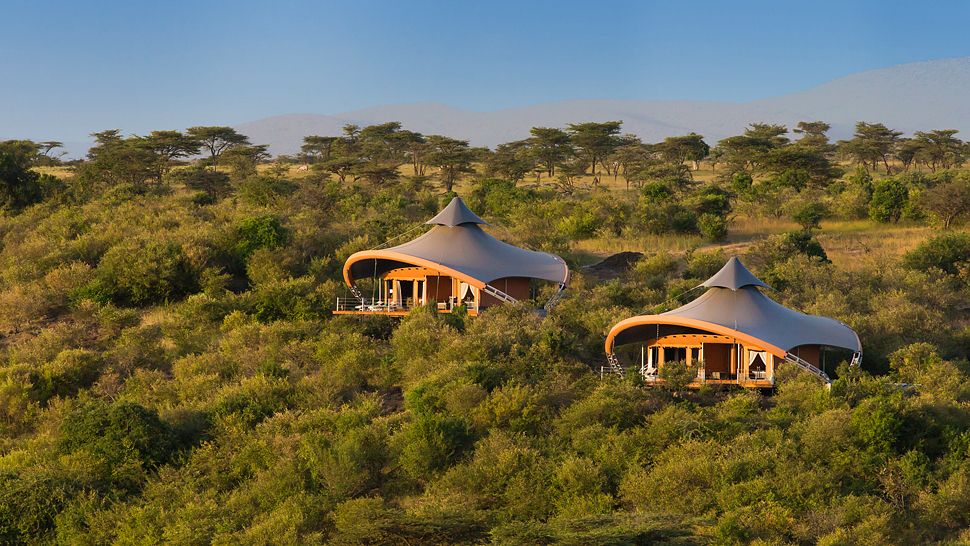 It goes without saying that as part of the Virgin Limited Edition Collection, Mahali Mzuri is an extraordinary place and you will be amazed at the futuristic-looking luxury tent.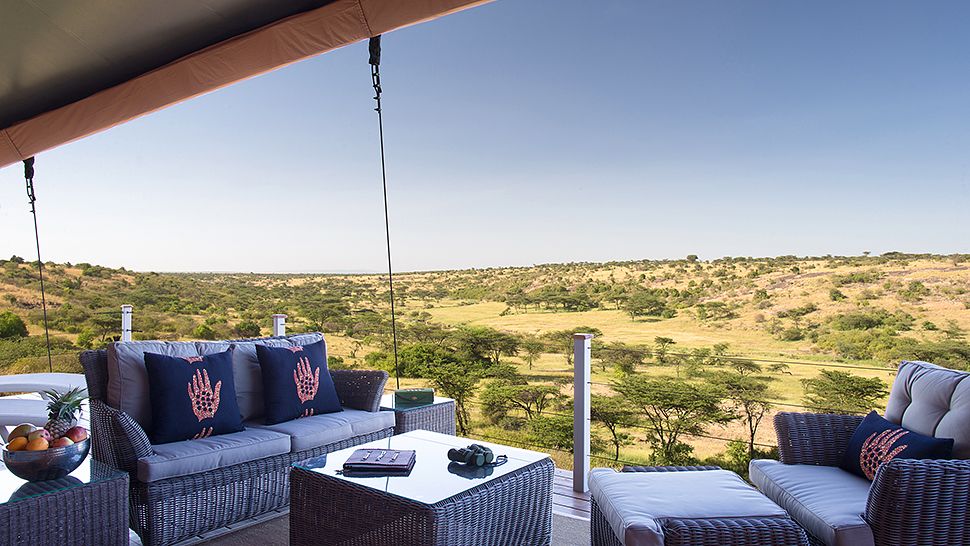 Mahali Mzuri seeks to offer guests the perfect combination of creature comforts, modern luxury, and traditional interests. So don't be surprised when the star gazing, candlelit dining, countless activities, and just the right amount of animal adventures have you thanking your lucky stars… or just one: Branson himself.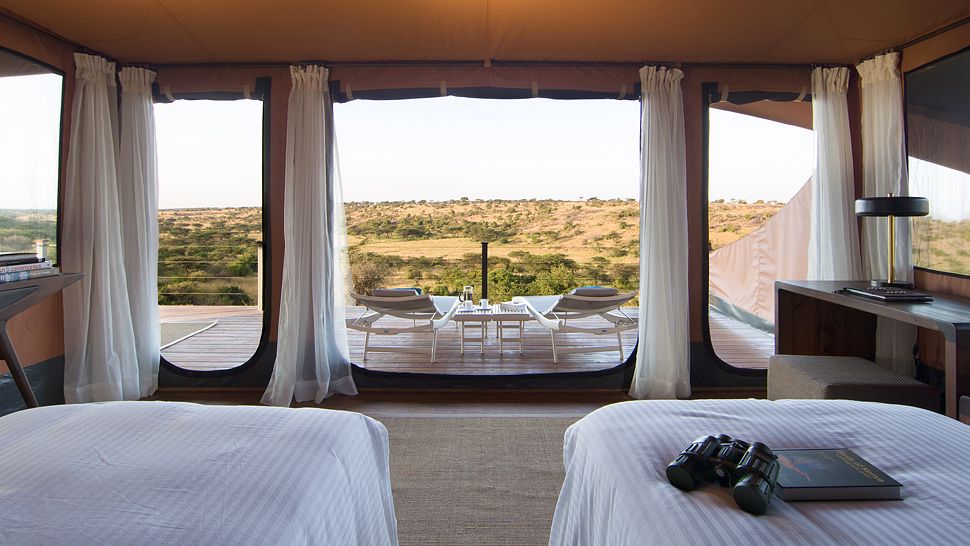 Cottars 1920's
On the border of the Serengeti, Cottars 1920's is a unique experience that hearkens back to a time when a safari was the most romantic and adventurous of pursuits. With luxury tent suites equipped as they would have been a century ago, going on safari at Cottars 1920's is an unforgettable wildlife experience and a romantic trip back in time, all in one.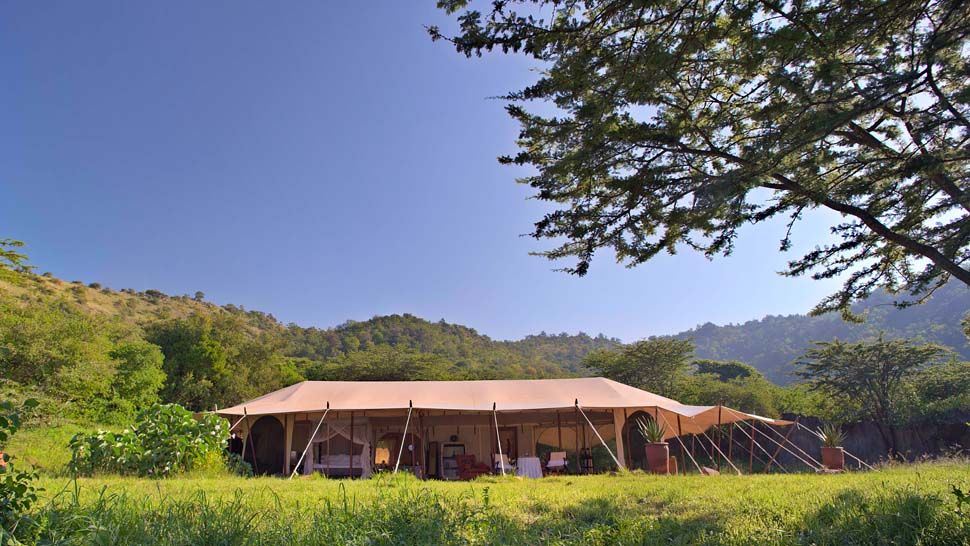 Everything here is exactly as it would have been almost a century ago, right down to the bucket showers and canvas baths. Antique safari equipment hangs from the walls, and the period furniture and decor in your luxury tent will have you forgetting what year it is. Of course, this isn't rugged and rough 1920's… it's the opulent and luxurious 1920's, so you won't lack in comforts.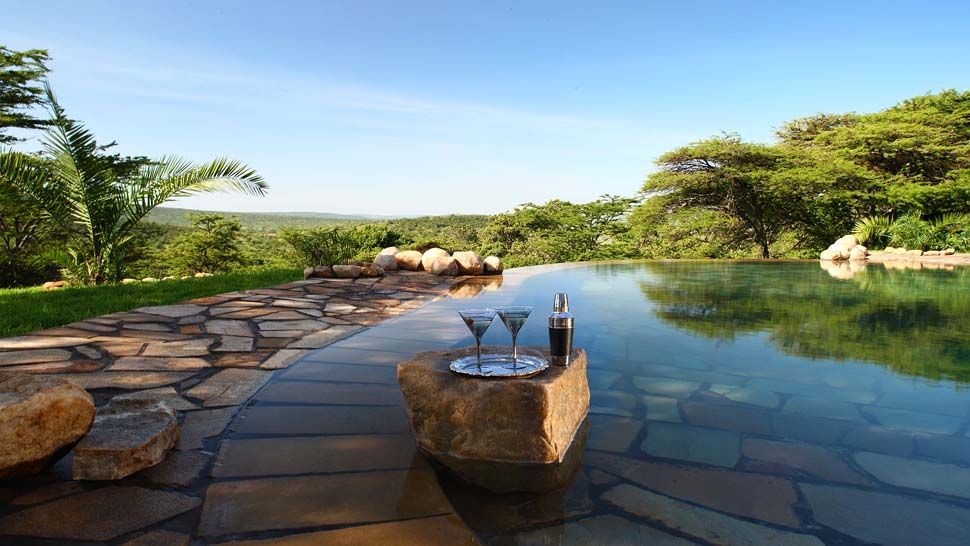 There are a few concessions to modernity at Cottars 1920's, including the 4-wheel drives that take you on game drives. This area is home to some of the most abundant wildlife in Africa and you'll see lions, cheetahs, elephants, and a huge assortment of other big animals. If you're lucky, you'll be there for the annual wildebeest migration, one of nature's grandest spectacles.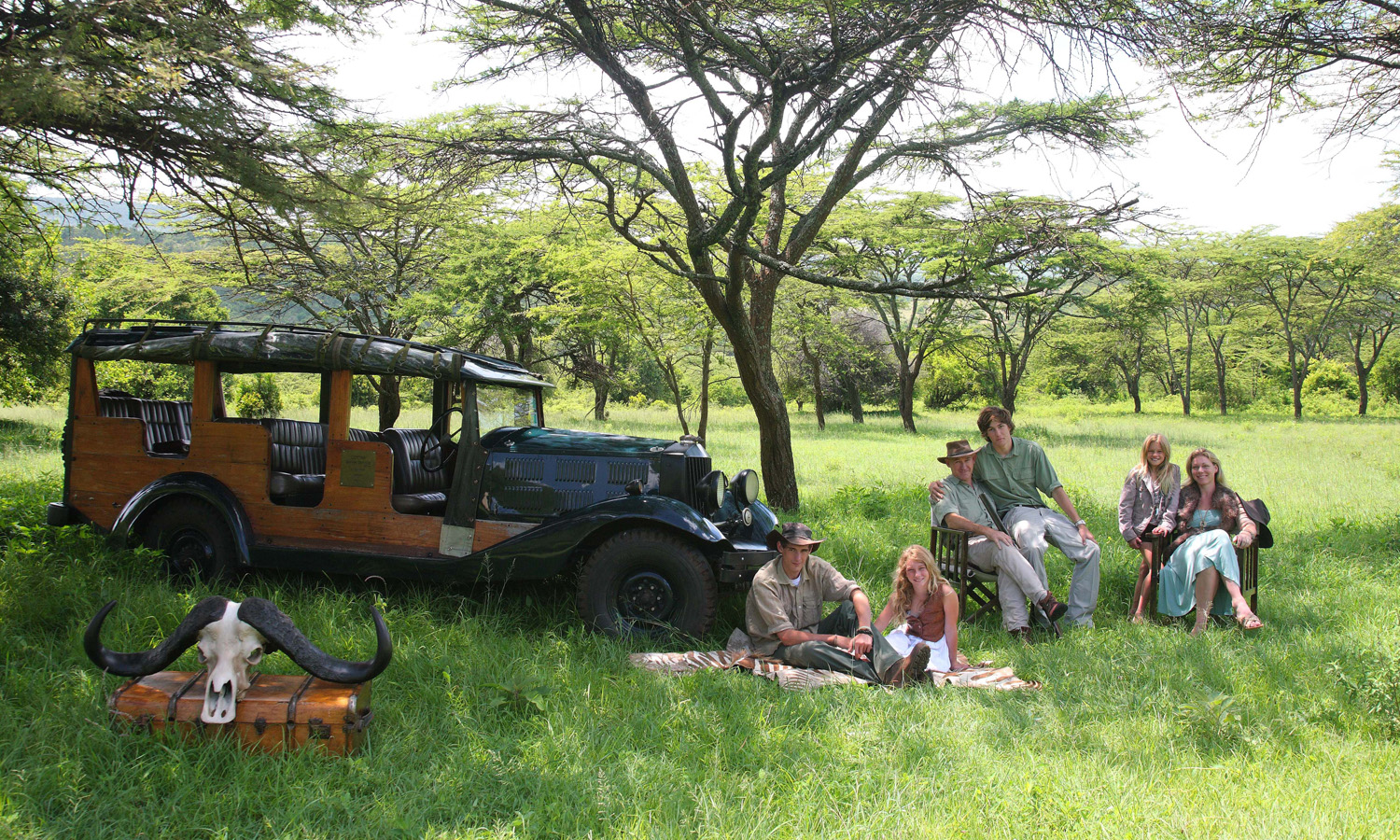 Olarro
Tucked away in Southwestern Kenya, Olarro is a must-see retreat, the natural beauty and unique, yet unobtrusive existence of the property's buildings.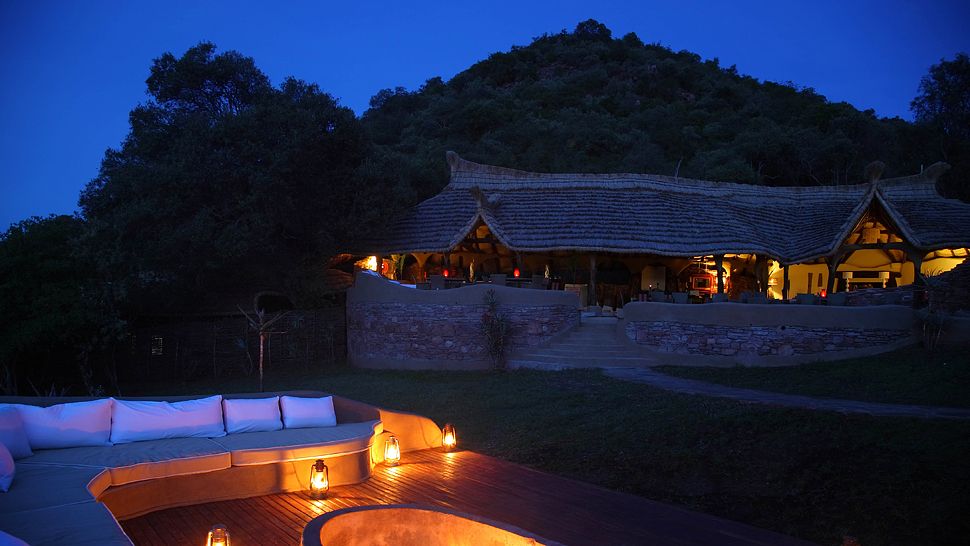 Rise early and revel in the magnificence of Africa, or relax during the day and set out for a game drive at night. Balloon rides, cultural tours, wining and dining, Spa visits and soothing strolls are also on the menu at Olarro; running out of fantastic things to do… is not.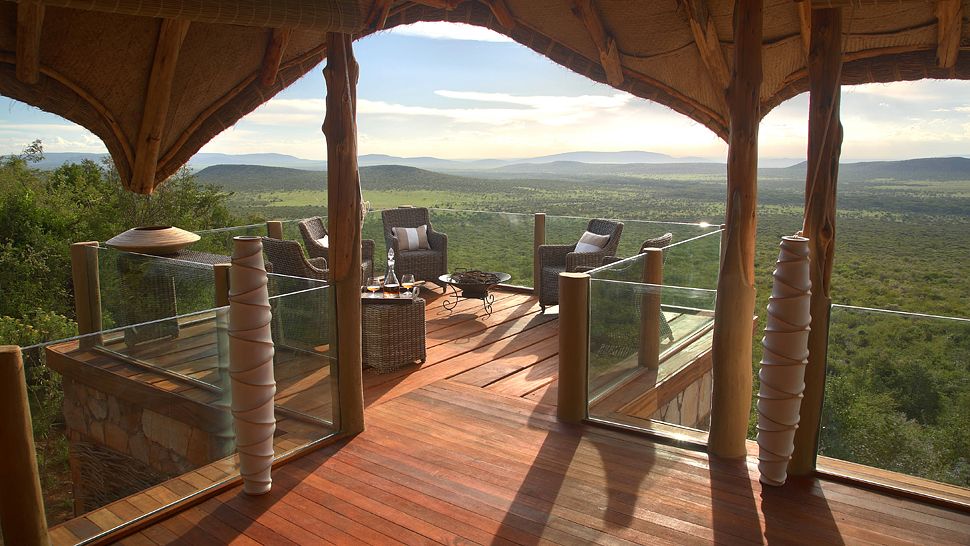 Feasting on fine food, partaking in nature walks, bird watching, and mountain biking – to name a few – can be tiring business. So, when it comes time to step inside one's accommodation of choice, luxury feels all the more worthwhile. Take your pick of one of seven cottages in Main Olarro, or unpack you bags in Little Olarro for an extra dose of privacy. None of your senses will be neglected here.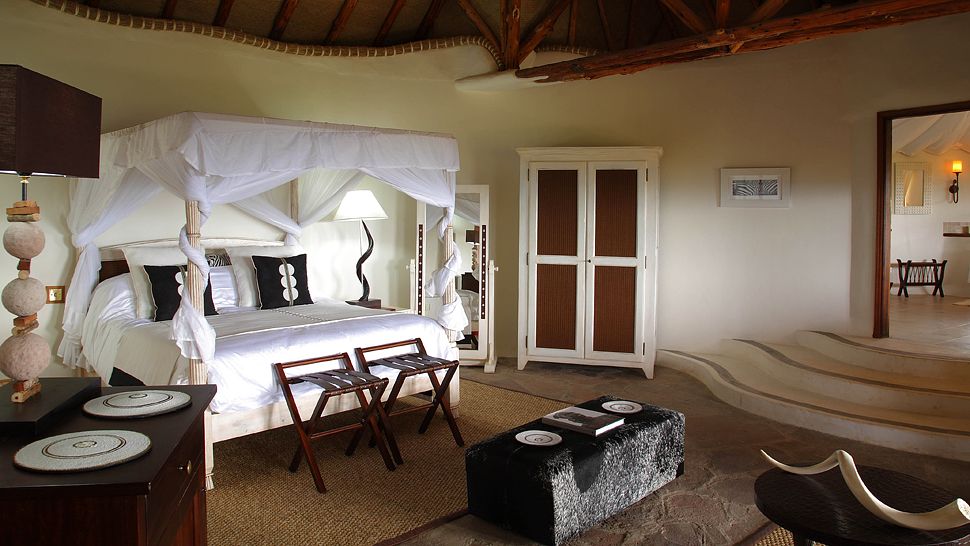 Ngerende Island Lodge
Enjoy having nothing between you and the African wild save for a thin layer of Canvas? Ngerende Island Lodge is right up your alley.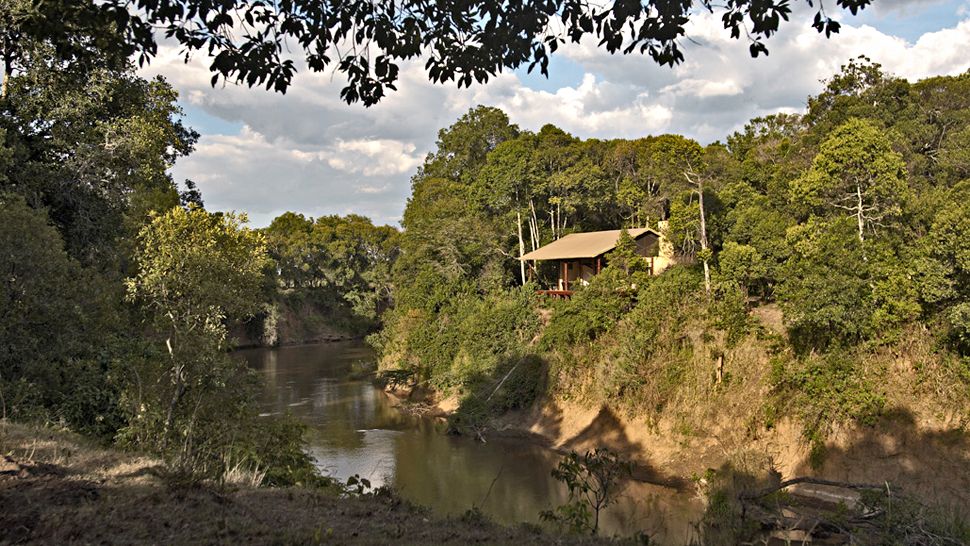 Bordering the famous Masai Mara game reserve, Ngerende Island Lodge is a place where one can easily lose their heart to Africa. Its massive plains, delicate fauna, and wide-open skies seem to embrace you from the second you arrive – wondering where on earth you've been all this time.
Out from this seemingly untamed place comes a lodge that treads lightly on local soil. A place that, although directly in touch with nature, offers a staggering array of life's little (and large) luxuries.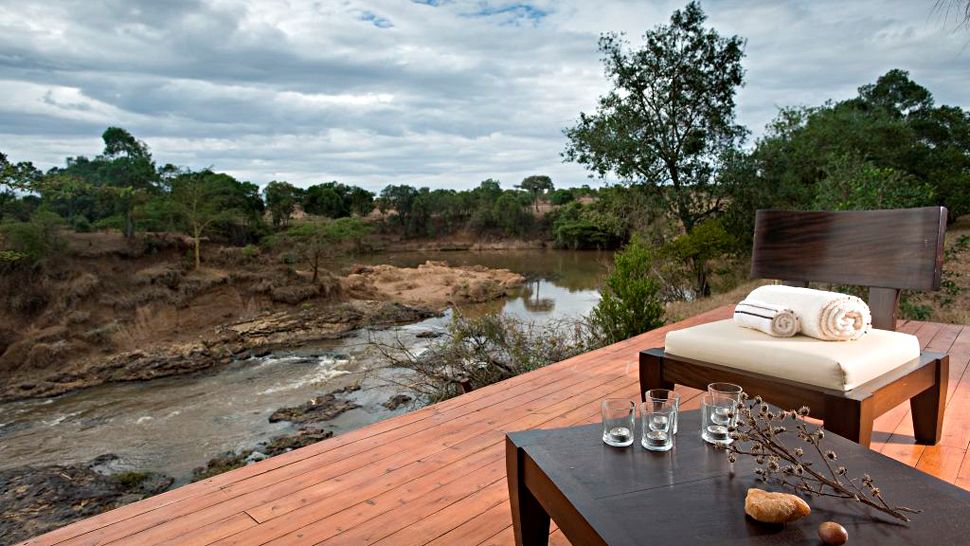 Just seven canvas and mahogany suites sit near the Mara River: built in tune with local materials, yet set in a contemporary fashion. Fireplaces, outdoor baths, flush toilets and twin wash basins allow safari-happy guests a place to retreat should the wilds of Africa become too … wild.
The real event here is Olchoro's 17,400-acre conservancy where game drives and bush walks lead to rhino, giraffe, wildebeest, cheetah, and most every other African species you've ever dreamt of meeting outside a zoo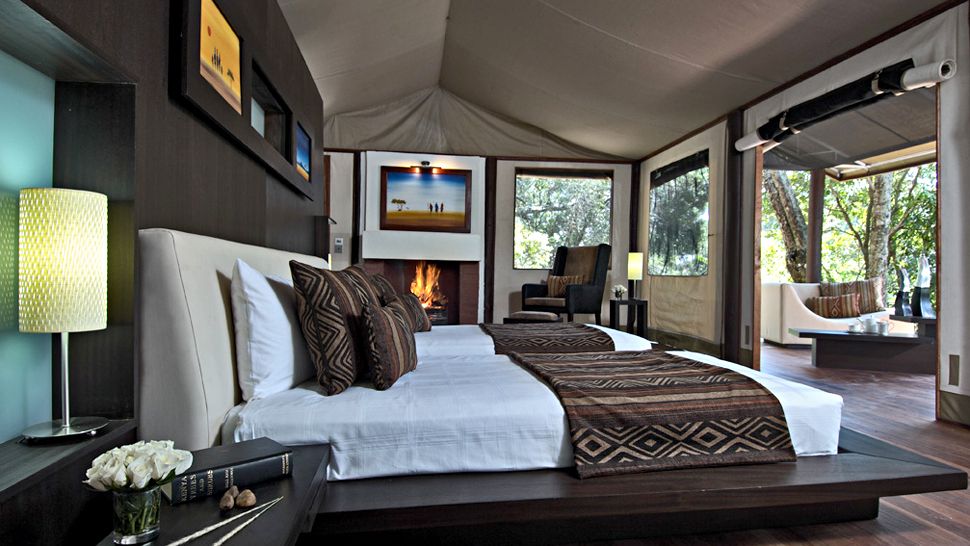 Sanctuary Olonana
Overlooking the Mara River, award-winning Sanctuary Olonana, is the idyllic location to experience a classic and authentic African safari. This luxury safari camp is an exclusive hideaway complete with library, swimming pool, and the freedom to enjoy a three course dinner deep in the bush or on the private river-view terrace of one of the 14 luxurious canvas pavilions.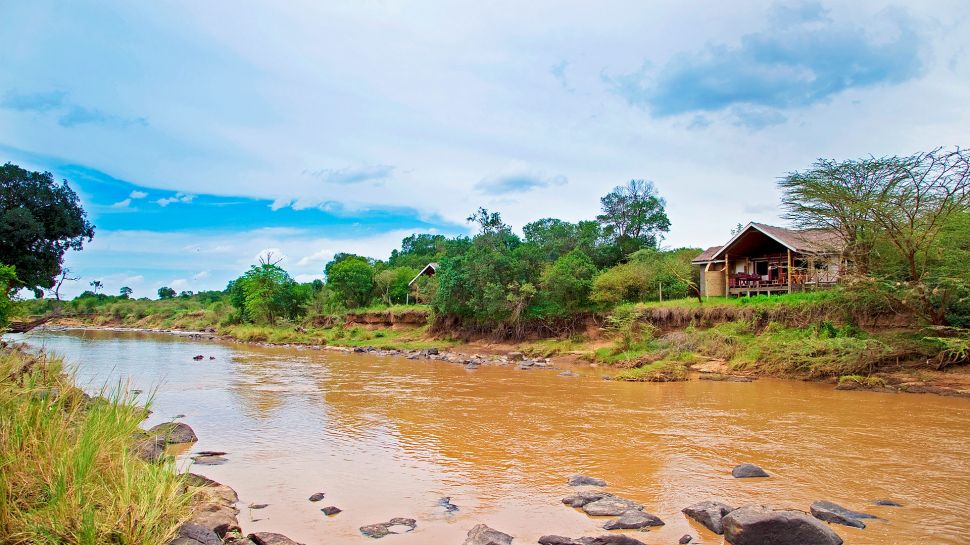 This is a trailblazer for responsible Eco-tourism. Sanctuary Retreats takes pride in creating sustainable camps so portable that, if need be, they could be packed up and leave barely a trace behind. But at Sanctuary Olonana, living among the animals doesn't mean you can't indulge in decadence.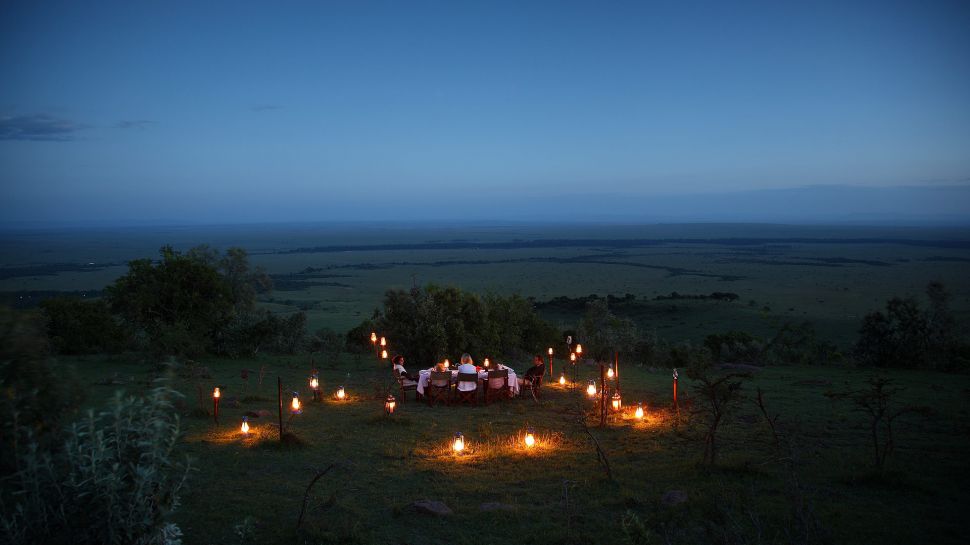 Built on the banks of the Mara River, the canvas tents are extremely comfortable and spacious and feature private verandas overlooking the river and hippos.
The main dining room and decking command views over a dramatic stretch of the river. Activities include morning and afternoon game drives, a Maasai Village visit and nature walks.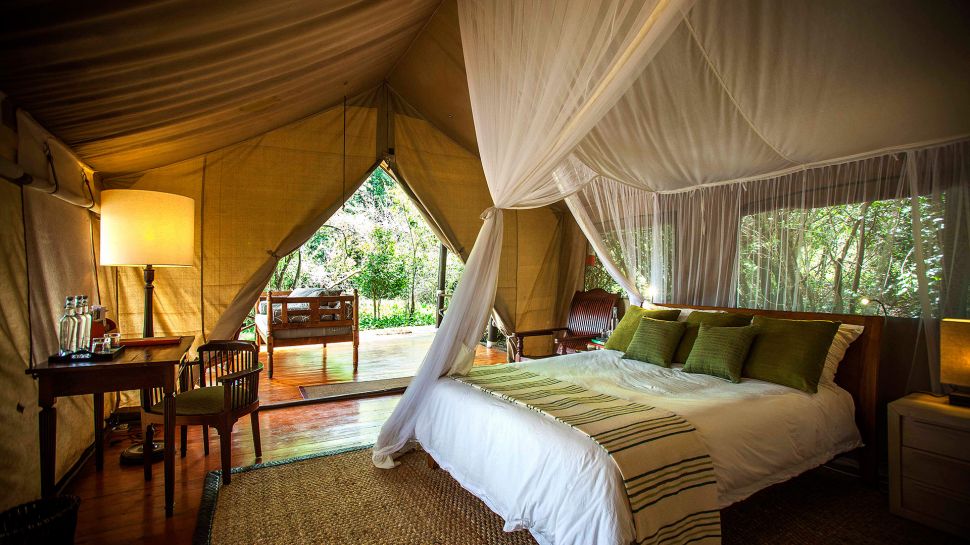 Governors' Il Moran Camp
Hidden under ancient trees, deep in Kenya's forest, Governors' Il Moran Camp consists of just ten private tents lining the winding banks of the Mara River. Set amid rolling grasslands, the camp's privileged vantage point offers a stunning view of nature's daily drama as wildebeest, lions, leopards, and hippos are drawn to the Mara.
Each spacious tent is furnished to the nines. Stunning beds are handmade from ancient olive trees, while large en-suite bathrooms offer flush toilets, a huge shower with piping-hot water, and an old-fashioned bath where you can soak away the day's dust. Relax and enjoy the sights and sounds from your private verandah, or join fellow guests for a sumptuous feast served under the cool evening air.
Saruni
Saruni, nestled amidst Africa's most magnificent beasts, demonstrates how to enjoy nature without exploiting it.It combines ecologically low-impact living with luxury. Built with the preservation of nature in mind, this Kenyan campsite takes a maximum of only 18 people – six couples in six beautifully crafted and sturdy cottages, and six individuals in the fully equipped Campi ya Tembo (think the extravagance of ancient Roman camps with flush toilets and hot running water, to boot).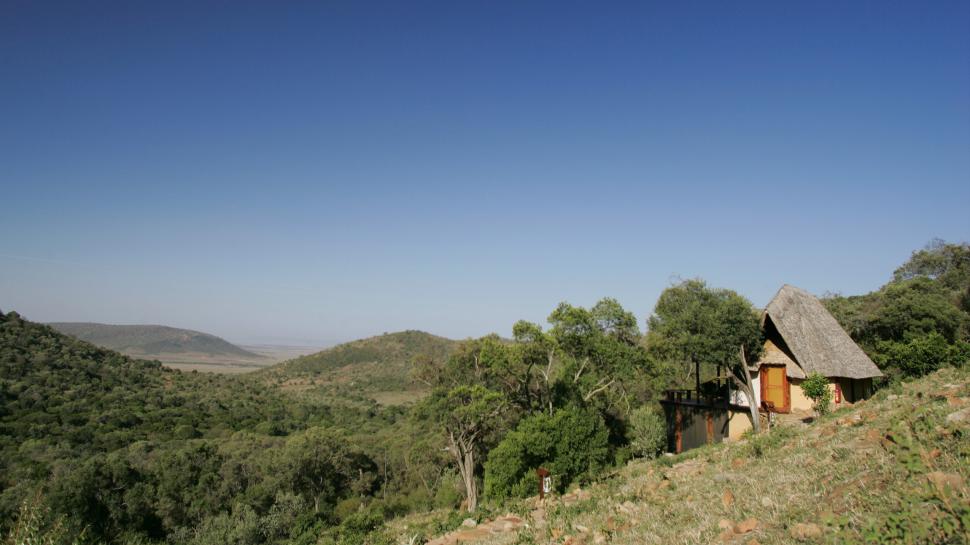 Safari is obviously the main attraction at Saruni – in open Land Rovers, your knowledgeable Maasai guides will tour you around the Masai Mara Reserve, taking you to the prime spots for bird and beast watching. Using their unsurpassed familiarity with the area, they'll show you hideaways flush with wildlife where you won't find another human soul.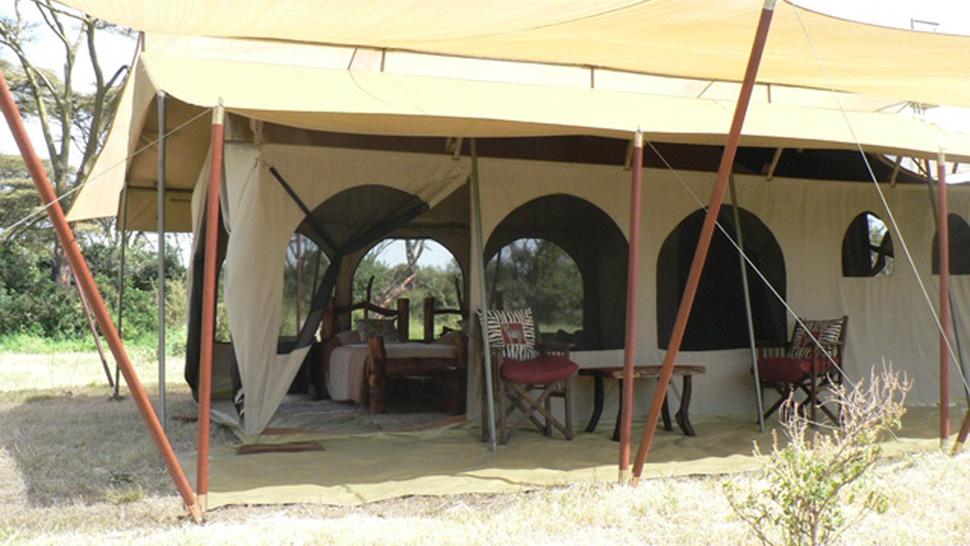 At dusk, come back to the main camp and feast on Italian-inspired cuisine complemented with local foods and flair. Vegetarian appetites are easily accommodated. At daybreak, you'll be aching to do it all over again – and no two trips into the bush are ever alike.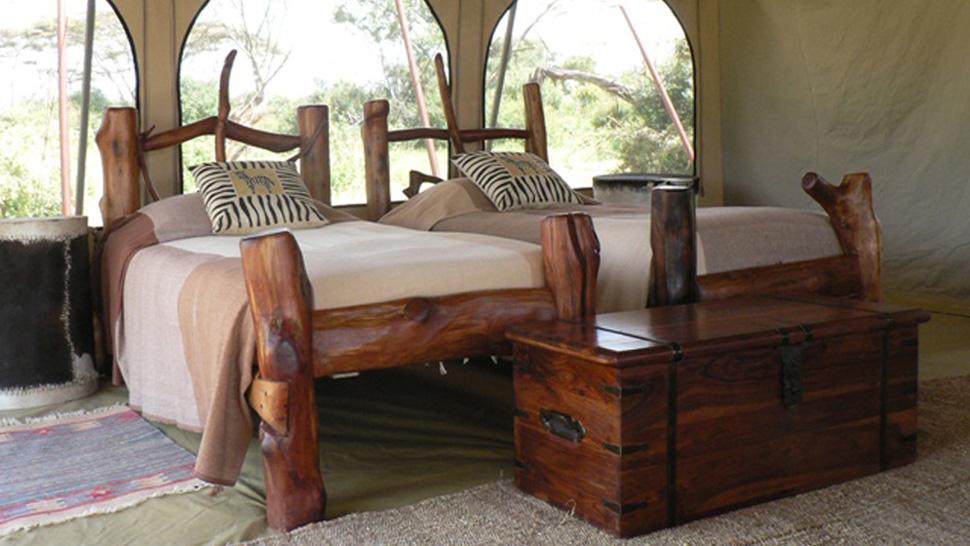 Little Governor's Camp
Little Governor's Camp embraces the magic of the Kenyan wilderness in a private paradise. Expect luxury safari tents with verandas, candlelit dining, views of wildlife, and enchantment at every turn.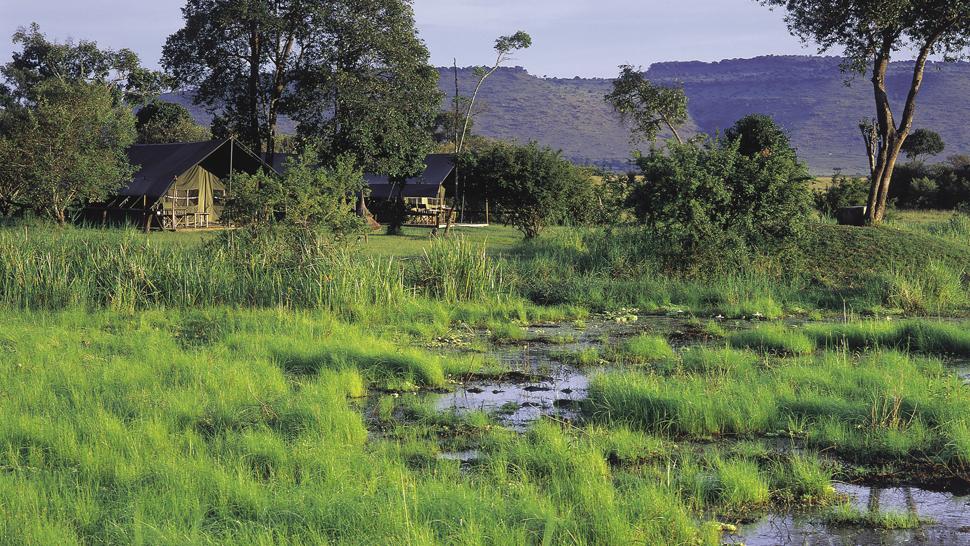 A trip to the exclusive safari-style Little Governor's Camp is a vacation that will stay with you for a lifetime. Just 17 luxury guest tents border a secluded watering hole that teems with elephants, giraffes, and hippos. The spacious quarters feature verandas where you can observe the wildlife that comes to drink and graze. Enjoy lunch under the amazing African sky, and relive the wonders of each day over a drink by the bonfire, followed by a leisurely candlelit dinner in the dining tent.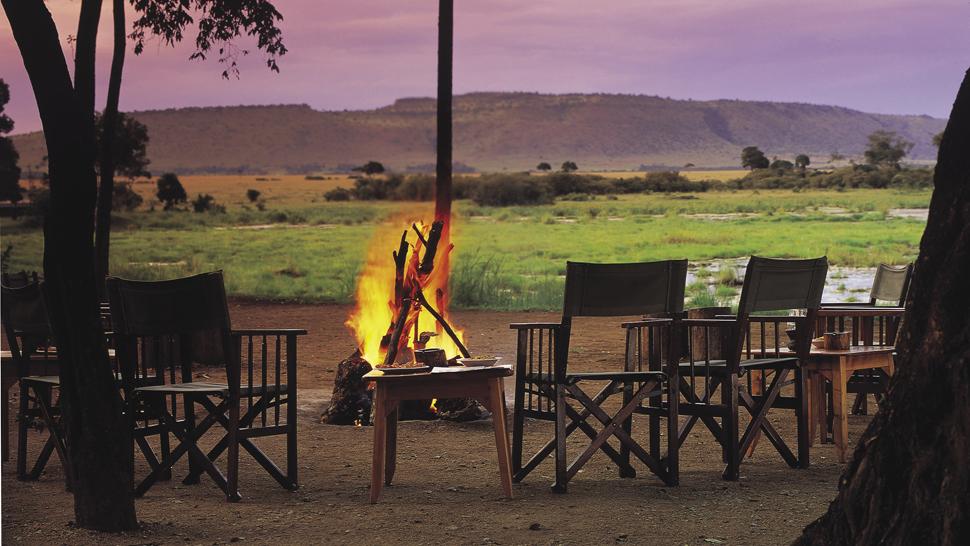 This unique part of Kenya is known for its steady flow of wildlife all year long. From July to October, witness one of the world's great natural wonders, when 1.5 million wildebeest and zebra come to forage for seasonal grasses. For a soul-stirring view, float above Masai Mara plains in a hot air balloon. Guided wilderness walks include champagne bush breakfast, sundowners (cocktail hour), and canapés. Little Governor's Camp is big on memorable experiences that make a lasting impression.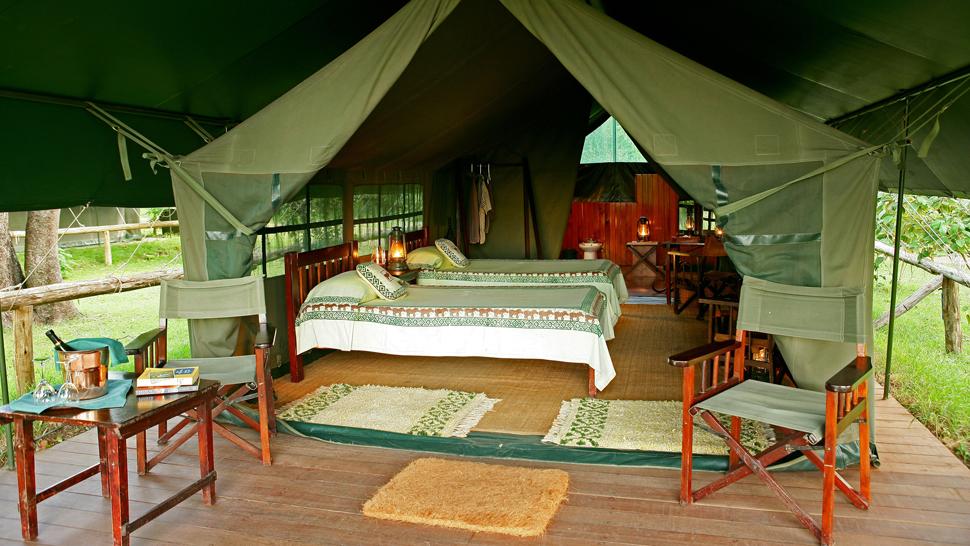 Kichwa Tembo Camp
Untamed African wilderness accented by colonial decadence, yet managed sustainably – andBeyond Kichwa Tembo Camp re-embraces the romance of 1920s safaris with a conscientious 21st century attitude. Here, you'll experience the exoticism of a big-game safari without a single twinge of guilt – here, with the help of local guides, you track the great beasts of the Serengeti while barely leaving a footprint behind.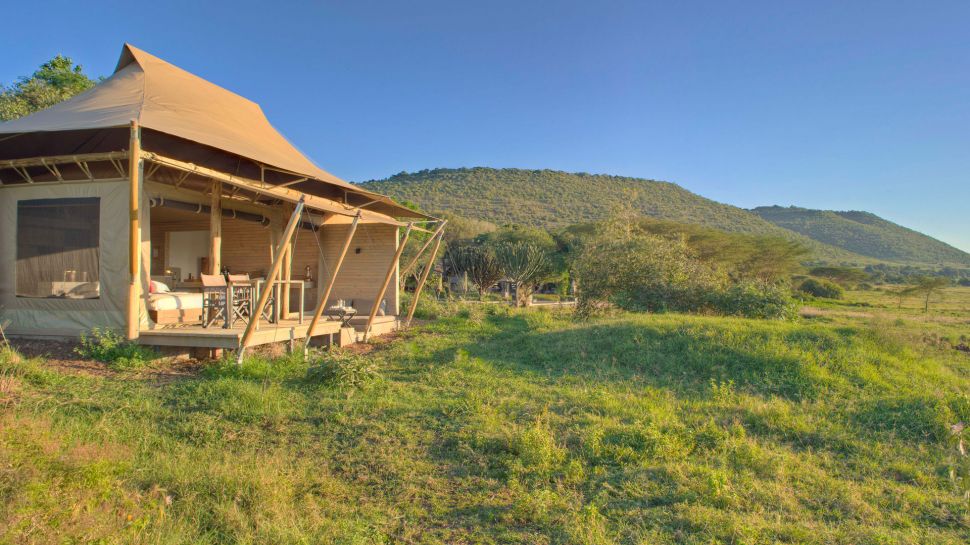 Though Kichwa Tembo Camp staunchly maintains environmentally sensitive standards, it certainly doesn't skimp on luxury. Upon arrival you'll find your personal suite complemented by ample public amenities, including a spa, gym, and outdoor pool.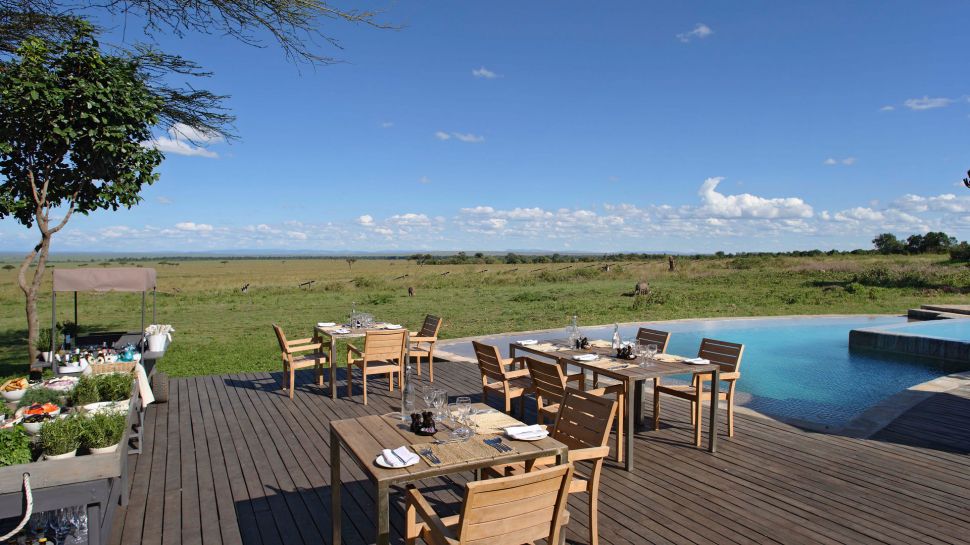 Every morning you'll wake to a brand-new sun streaming through your window and fresh coffee brought to right to your bedside. Before long, you'll be escorted to an open 4×4 with a basket of snacks, heading straight for watering-holes and other animal hotspots.
At night, gather around an a china-and-silver-laid table to recount the day's adventures with other guests. Or just lounge in quiet solitude by the pool, watching the sun set with a glass of regional wine.