The Maralal Camel Derby is an annual event which has attracted the interest of many in recent years.  This year, the event will be held on 31st August 2017 to 3rd September 2017 just outside of Maralal town. This is Kenya's best known and most prestigious camel race where one has an opportunity to race atop the "ships of the desert".  This epic event attracts both local and international competitors. The event is a major draw for spectators as well as racers.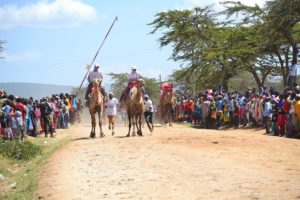 Many local professional camel racers come to compete each year. Some of the finest racing camels are seen in town during the race period. The race is a great social event, and the major event on the Maralal Calendar. The atmosphere in town on race day is electric and entertaining.
A cycling race is also now held concurrently with the derby, with mountain bikes racing over a demanding course. The cycle race also attracts its share of dedicated professionals on world class bikes, as well as local amateurs on bikes that in some cases never see the end of the race to 'Spruce-up' the whole event.
The Maralal Camel derby is more than just a race. It is an entertaining festival that is much fun and sure does bring this small desert town to life as well as bring life to them that participate. I highly recommend this unique and exciting event .