Mombasa, Kenya's second largest city after Nairobi, offers travelers an exotic taste of the African tropics steeped in centuries of seafaring history. Mombasa is Kenya's main tourist destination. It is located on the Eastern coastline of Kenya bordering the Indian Ocean which has made it a popular destination for its beaches. This cosmopolitan tourist hub is actually an island connected by bridges and ferries to the Kenyan coast. Tourists flock here to enjoy the many watersports – from dolphin spotting trips on traditional dhows and deep-sea fishing, to diving and snorkeling the wrecks and reefs, and basking on the sun-splashed shores.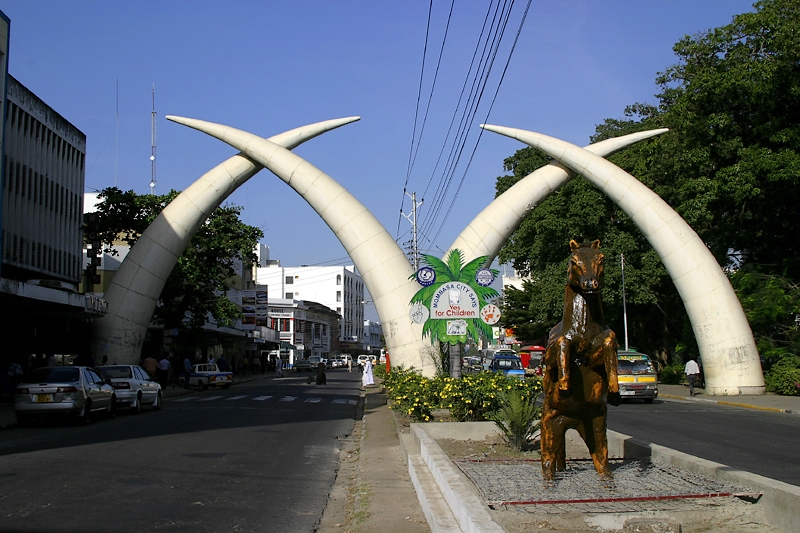 Mombasa offers diverse marine life, world-class hotels and a friendly atmosphere. There is a tropical climate all year; it is a great destination filled with activities for all ages.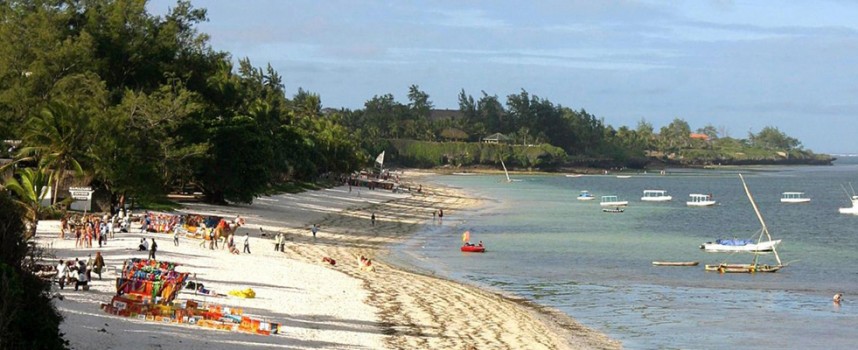 Historical Attractions
Mombasa is a historical place in Kenya, and is rich in historical features. Some of the early  Portuguese explorers like Vasco da Gama visited Mombasa and founded and discoverd some of the sights which have become famous and even attained UNESCO recognition.
                    Fort Jesus
Fort Jesus was built by the Portuguese in the late 16th Century. It was the first European-style fort built outside of Europe that was designed to withstand cannon fire. Today, it is one of the finest examples of 16th century Portuguese military fortification.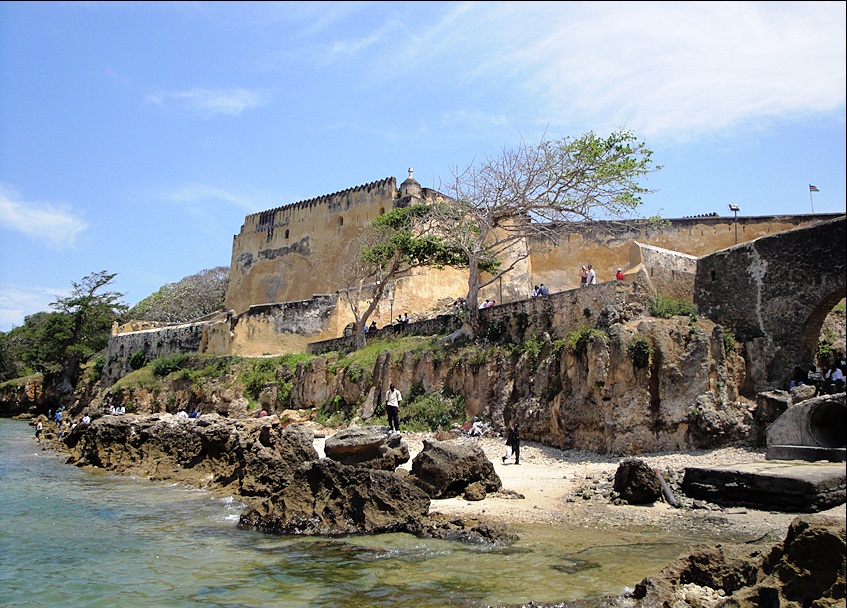 This UNESCO World Heritage site is a popular tourist attraction in Mombasa and is famous worldwide. The partially ruined structure houses a museum that showcases a vast collection of pottery and ceramics that were traded in the ancient times. There are also other ruined buildings to explore near Fort Jesus such as the Omani house and the Passage of Arches.
                 Old Town
Old Town refers to a whole neighborhood that shows off the old Islamic style and architecture that was the foundation of Mombasa. Though some of the buildings are not in the best state of repair, you can still see some wonderful old structures, buildings and shops. Though the influence is mainly Arabic, there are also Asian, African, British and European elements too.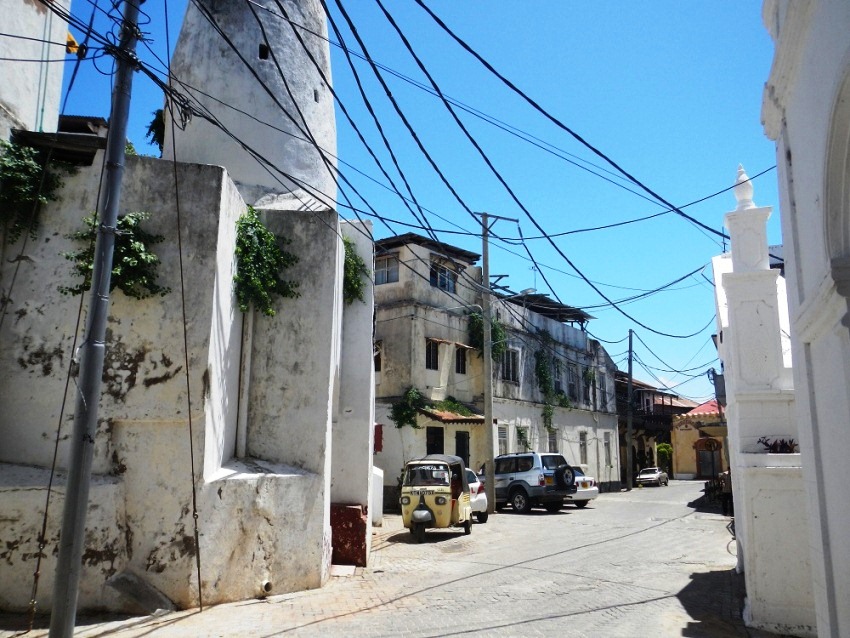 "Old Town" is reminiscent of the days when the Portuguese ruled this important port. The town's inhabitants are mostly of Arab, Asian, and European origin, and the architecture reflects their cultures. Ornately carved doors and balconies adorn the old buildings that jostle cheek to jowl along the narrow streets. History buffs can easily spend a couple of hours here strolling along the atmospheric alleys; snacking at one of the many cafés; and shopping for antiques, fragrant oils, spices, and souvenirs.
           Gede Ruins
Nestled in lush rainforest, Gedi was one of the ancient Arab towns along the East African Coast, which was probably rebuilt in the 15th and 16th centuries. The Gedi ruins that lie to the North coast of Mombasa towards the town of Malindi. Built of rocks, Gedi was a small town that was inhabited by a few thousand Swahili people.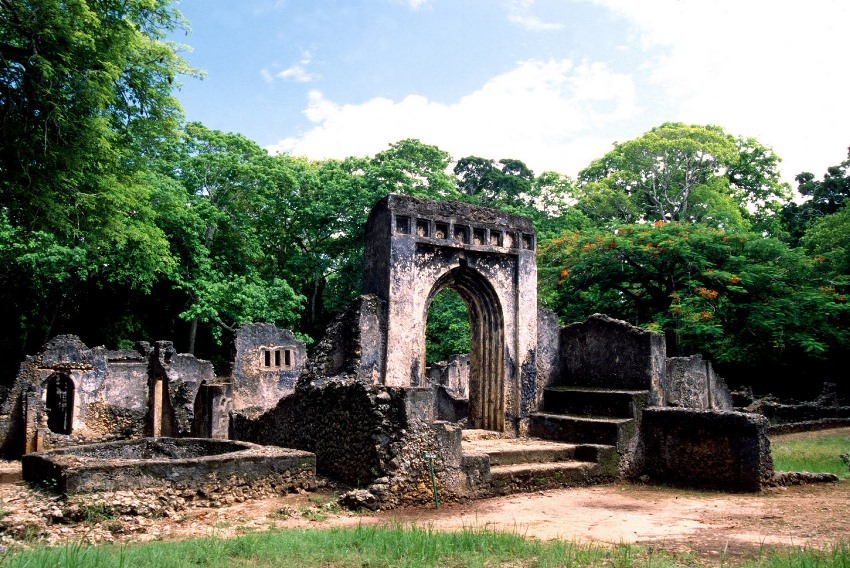 Ruled by a very rich Sultan, today only the ruins have remained that date back from the 15th century and thus attracts the tourists. Preserved as a National Museum, these ruins are a direct reflection of the commitment of the Government to sustain the country's cultural and historical background. It presents itself as a historical Arab-African town which is one of the many remnants of the gone era
          Hindu Temples:
Hindu temples are one of the many symbols of Mombasa's cultural diversity. Temples are a popular tourist spot and a tour can usually be taken inside the temple, with a historical background of the particular temple given by one of the temple gurus.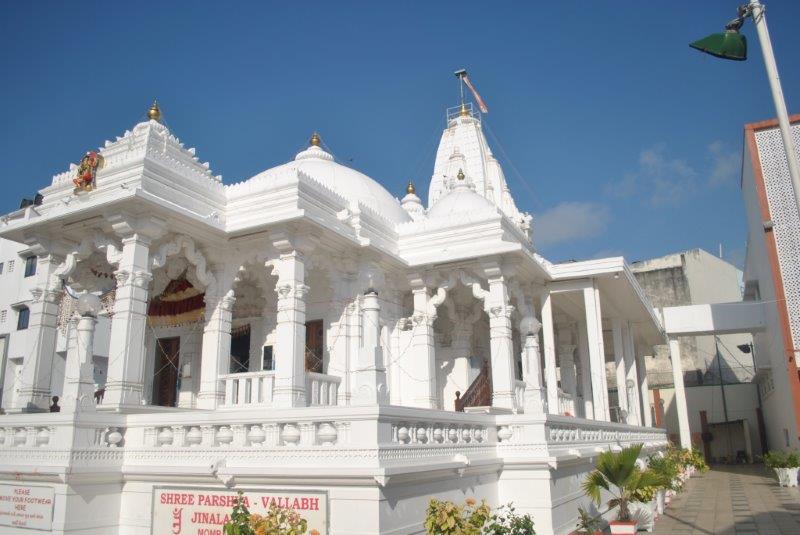 Extravagant idols and stone carvings of the various religious beliefs are typically displayed within the temple and on its walls.
        Vasco da Gama Pillar
The Vasco da Gama Pillar is believed to be one the oldest European monuments in the Africa having been built in 1498 by Vasco Da Gama a Portuguese explorer.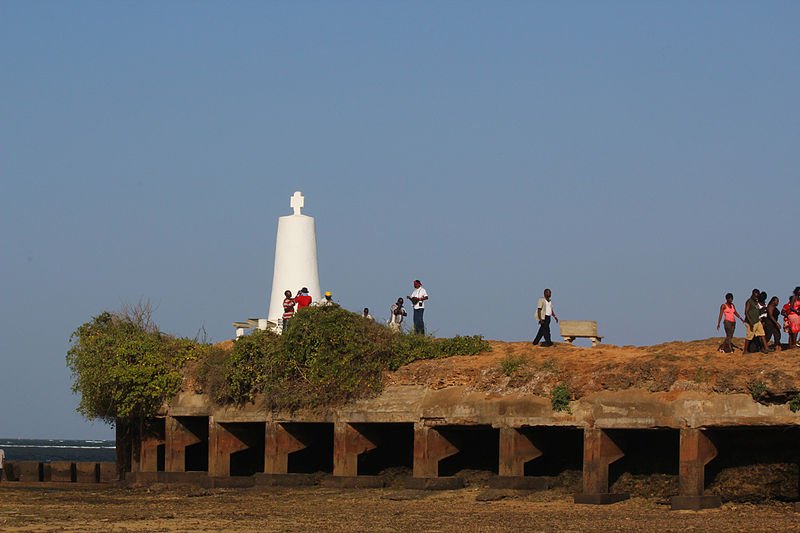 This bell shaped architecture stands majestically on a cliff and was built to give direction to the portugese who were following the sea route to India.
          Mombasa Tusks
The Mombasa "Tusks" are symbolic representations of entrance into the heart of the town. The tusks were built to commemorate the visit of Queen Elizabeth to the town in 1952, as they lay directly on the path from the port to the town.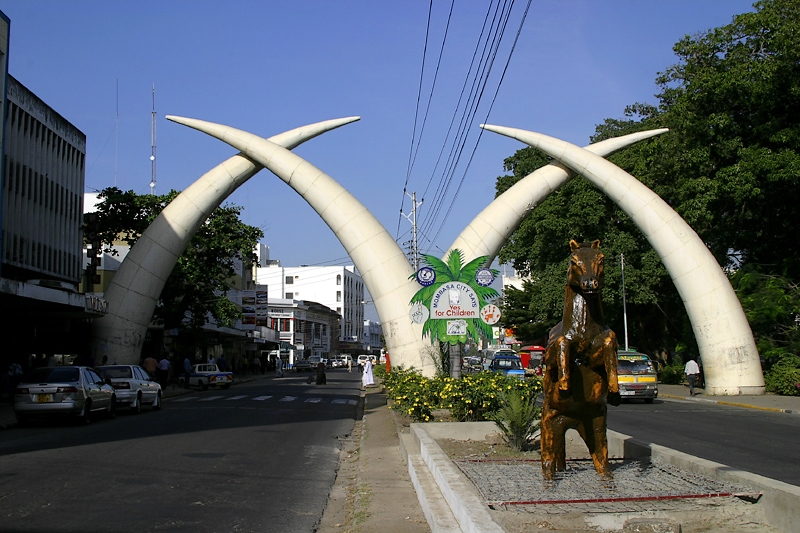 Ivory was considered to be an exquisite commodity during the time, and in essence the tusks were meant to embrace the Queen and the British Empire into the town and within its social structure. Coincidentally the tusks also spell the letter "M" for Mombasa
          Bombolulu Workshops
The Bombolulu workshops are located along the North coast of Mombasa. Bombolulu Workshops is a Project of the Association for the Physically Disabled in Kenya (APDK) and was founded in 1969. It is a major tourist attraction which consists of a Cultural Centre with 8 traditional homesteads.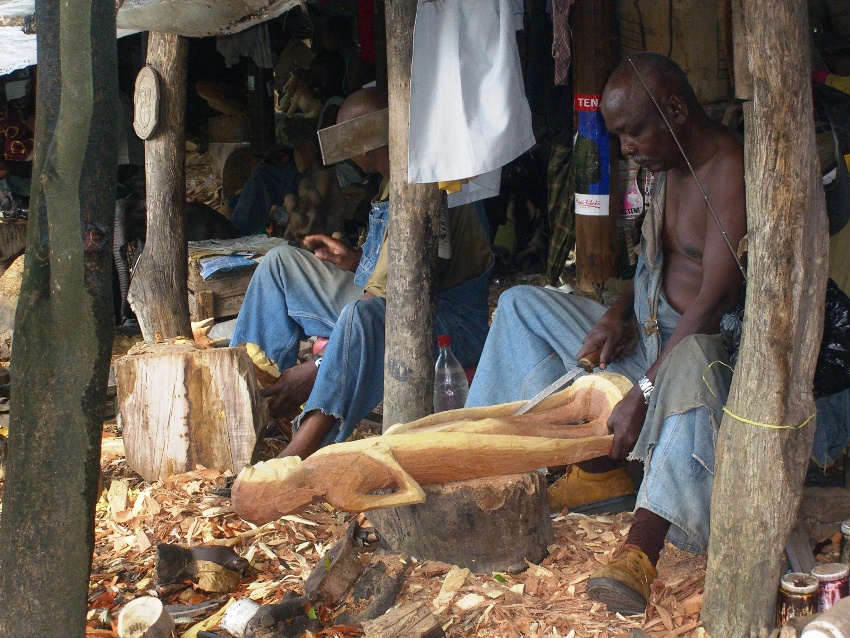 The Centre also runs a traditional Restaurant and guests are entertained with traditional dances throughout the day. The Centre is run by the "Association for the Physically Disabled" and employs 150-disabled craftsmen/women who produce jewelry, hand printed textiles, wood carvings and leather crafts. The products are sold in a large showroom and exported to 20 countries. Bombolulu Workshops have grown to be one of the biggest rehabilitation centres in Kenya and has built a reputation as one of Kenya's most reliable exporters
Haller Park
Haller Park is the largest animal sanctuary in Mombasa. Located next to the Bamburi Cement Factory, the Park boasts an enormous variety of animals, reptiles, insects and botanical gardens. The best thing about this park is that tourists can select one or more from Game Sanctuary, Palm Garden, Butterfly Sanctuary, Reptile Park, insect watching, botanical gardens or bird watching as their personal preference.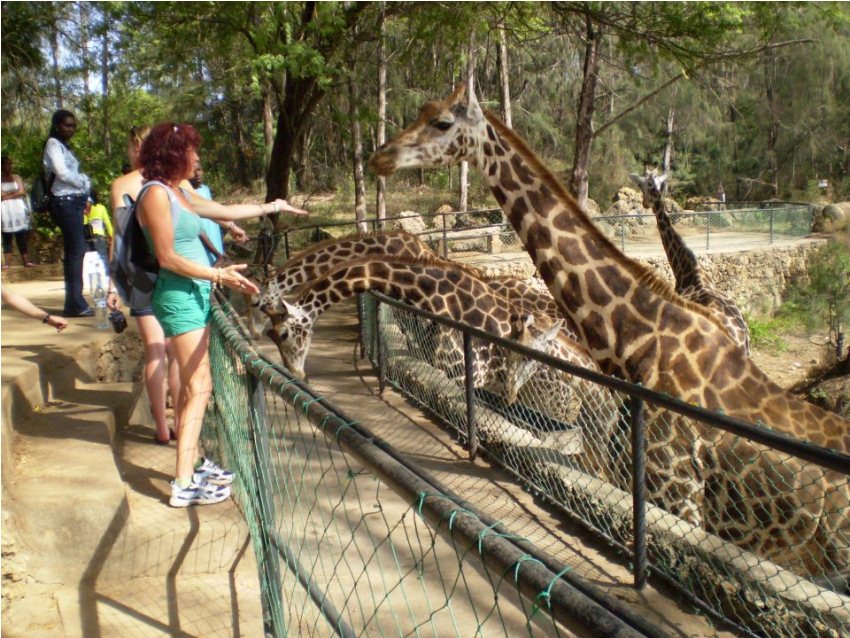 Walking along the trail is the ideal way to look at the various animals, and on many occasions holding or feeding a reptile such as a snake is allowed under close supervision of a guide. Educational videos are also shown, with emphasis on the history and continuous improvement of the trail.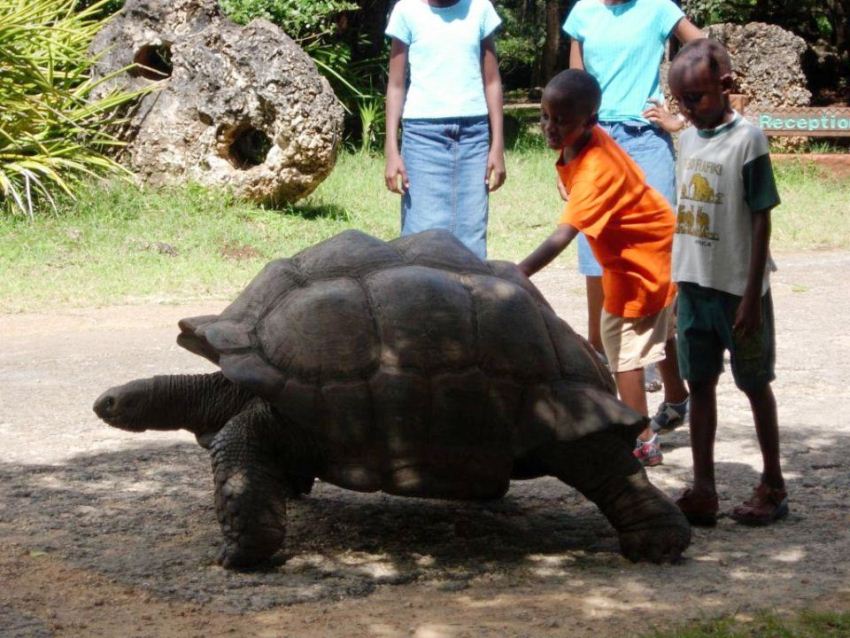 Birds are also abundant in the park. More than 160 species have been introduced to the area including weaver birds, cranes, pelicans, and storks. Walking and cycling paths wind through the groves of casuarina, and a reptile park, palm garden, and crocodile pens are other attractions
Mamba Village Centre
Located at Links Road in Nyali, Mamba Village Centre is the largest crocodile farm in East Africa. The centre allows you to enjoy exciting activities such as horseback riding and watching the crocodiles.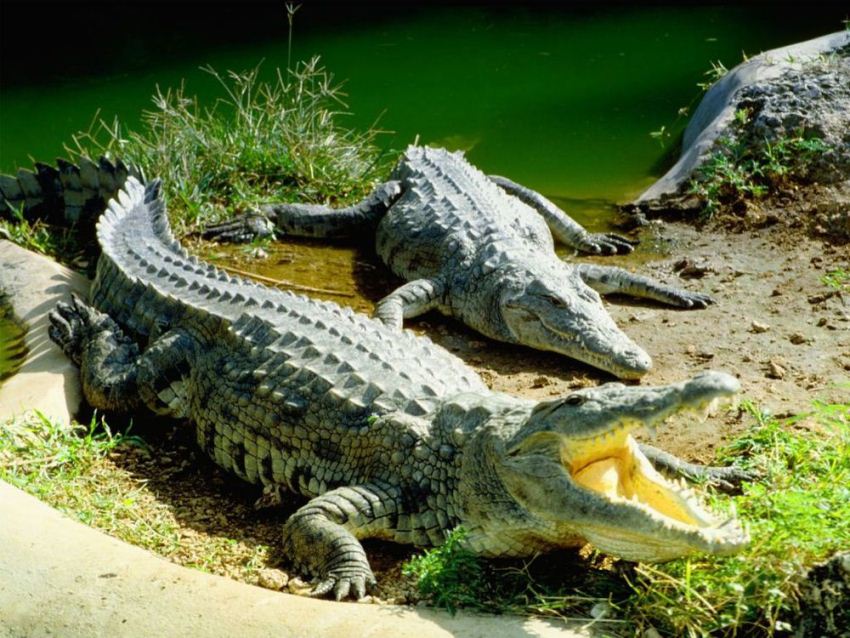 It includes a botanical garden that features orchids and aquatic plants. You can enjoy game meat available at the centre's restaurant.
 Marine Parks
Several marine parks exists at the coast giving one the best opportunities to visit the colourful marine life including the coral gardens and the colourful fish.  
       Mombasa Marine National Park
It is the most visited marine park in Kenya. It protects coral reefs and boasts stunning sandy beaches and beautiful mangroves. It is inhabited by numerous marine creatures such as eels, stingrays and seahorses. There are a lot of things you can do in this marine reserve, including diving and snorkeling.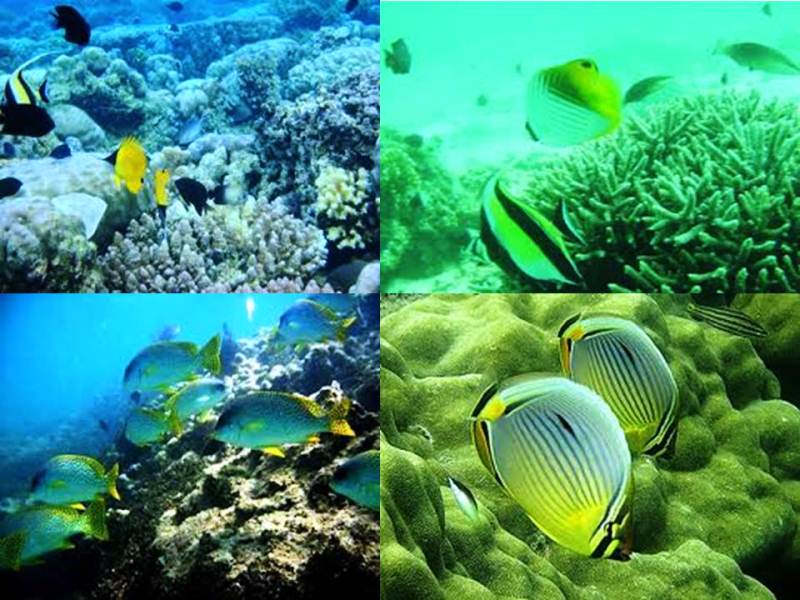 Others include; Malindi Watamu marine park, Kiunga Marine Park, Kisite Mpungati Marine Park. The parks are ideal for wind surfing, snorkeling, water skiing, sunbathing, diving and bird watching.
        Mtwapa Creek is a place to visit on Mombasa's North Coast. An Indian Ocean inlet with some small marinas and beautiful tropical vegetation. Very famous for bird watching, mountain bike tours around the creek, and starting point for deep sea fishing trips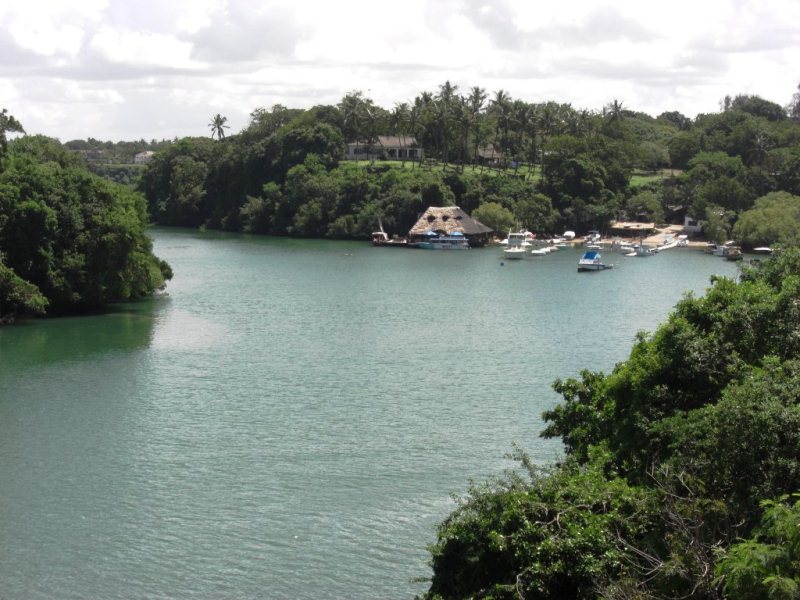 South Coast Beaches
With gorgeous beachscapes and sprawling rainforests, the coastline south of Mombasa is a place of unmatched beauty. There are three popular beaches in this region: Shelly, Tiwi and Diani. Shelly Beach is the closest to Mombasa but offers minimal pleasure activities. Tiwi Beach is a popular spot for sunbathing and snorkeling while Diani Beach is more developed and offers water sport activities such as windsurfing, snorkeling, diving and sailing.
North Coast Beaches
North Coast Beaches are characterized by swaying palm trees, stunning stretches of white sand and clear blue waters of the Indian Ocean. The popular beaches along this extensive coastline include Nyali Beach, Bamburi Beach and Shanzu Beach. The beaches offer a variety of water sports and are lined with entertainment venues, shops and hotels.
 Ngomongo Village/Villages Park:
Ngomongo Villages Park is a collection of 9 diverse RURAL KENYA TRIBAL HOMESTEADS, each complete with hut, cultivated crops, domestic and wild animals ( like crocodiles for the El molo man) wild animal traps, charms and fetishes, tinsmiths and even a village witch doctor!
Each village has tribe – specific activities for you to engage in, including archery, boating, rafting, tasting tribal foods and liquor, forest walk, hook fishing, grinding and pounding maize.   After the trek through the village households, you get the " deja vu" feeling that you have literally walked throughout rural Kenya in one area.
Bamburi Nature Trail
Also known as Haller Park Trail, Bamburi Nature Trail is a quarry rehabilitation project with the help of Bamburi Portland Cement Company. Many interesting species are living within the grounds of the compound. There are African buffaloes, waterbuck, eland, oryx, porcupine, Aldabra tortoises, crocodiles, monkeys and birds.The reforestation project features various vegetative species like Casuarina, Conocarpus, Algaroba, Neem, Fig and Indigenous Species
 National Parks and Sanctuaries
While in Mombasa you can organize excursions or day trips to the following national parks
      Shimba Hills National Park-Covering 320Km2, the park  has elephants, buffalo, bush buck, monkeys, and the only population of Sable antelopes. It provides superb views of the coast. You can even spend the night at Shimba Rainforest Lodge.
      Mwalugange Elephant Sanctuary-Established in 1995 to offer a solution to the human elephant conflict, the Mwalugange Elephant Eanctuary covers 24,000Hac.  It is connected to Shimba Hills National park by a fenced corridor.    The Mwalugange Elephant Sanctuary is run by the local Duruma community.  You can be accommodated at Traveller's Mwalugange Elephant Camp.
       Sable Valley Game Sanctuary this is the privately owned.
Avicennia Island
For South Coast adventures, Avicennia Island is unbeatable. Kayak silently through submerged mangrove forests; swim & sunbathe in the emerald waters of the Funzi Sandbar, enjoy a sumptuous seafood barbeque meal served at a delightful wooden banda 
 Go-Kart
Mombasa has a unique Go-Kart with an African charm to it offering a state of the art timing system, as you drive under palm trees with camels, donkeys and turtles off the track. You can also opt for the off- road track where you can hire and drive beach buggies along the beach, while the younger kids explore the excavator park inside the vicinity. Apart from karting, there is a whole lot more like; Bulldozing, Off Road, Paintball, Bowling and Table tennis, computer game stations, a playground with trampoline and a restaurant.
 Night Life
Enjoy the famous night life of Mombasa. The night life and entertainment in Mombasa is broad and offers something for every taste. Many bars, pubs and nightclubs in many price ranges offer something for every taste and budget. From local bars to exclusive lounge bar, everything is available. In the city center there are numerous coffee shops, small pubs and bars as well as some small to medium sized clubs. Nightlife "special kind" is mainly found in the village Mtwapa, north of Mombasa. It's called "the village that never sleeps".
 Eco-Tourism experience
Mombasa offers you an easy way of life when compared to Nairobi. You see the locals in their natural ecologically sensitive homes. They love farming, fishing and aquaculture to protect, enhance and conserve their resources so that visitors can enjoy sustainable Mombasa tourism. Visitors easily adopt ecologically sustainable resources in Mombasa while having an exciting adventure.
Likoni Ferry and Kilindini Harbor
Many tourists especially domestic guests come to the coast excited to enjoy a ferry ride. As you cross the channel, you get the chance to see giant cargo and passenger ships docking at the Kilindini port; the view is breathtaking.
Activities in Mombasa
-Snorkeling             -Diving
-Swimming              -Deep sea fishing
-Boat rides               -Ocean Cruises
-Golf                          -Sunbathing