The water invites you to shed of your clothes to a swim. The modern hotels populate the coastline with relaxing amenities are in themselves inviting and one is spoilt for choice over which one to go for. A drive through Ukunda is a display of sales talent with many Kenyans selling beautiful African Kanga or Lessos depicting African culture, carvings, ornaments and paintings that are designed to capture the eyes of the tourist with rich colors. The plum trees line up their long leaves welcoming as they move to the ocean breeze. Ukunda-Diani is Kenya's gem of kilometers of natural beaches and water just calling on anyone to enjoy it.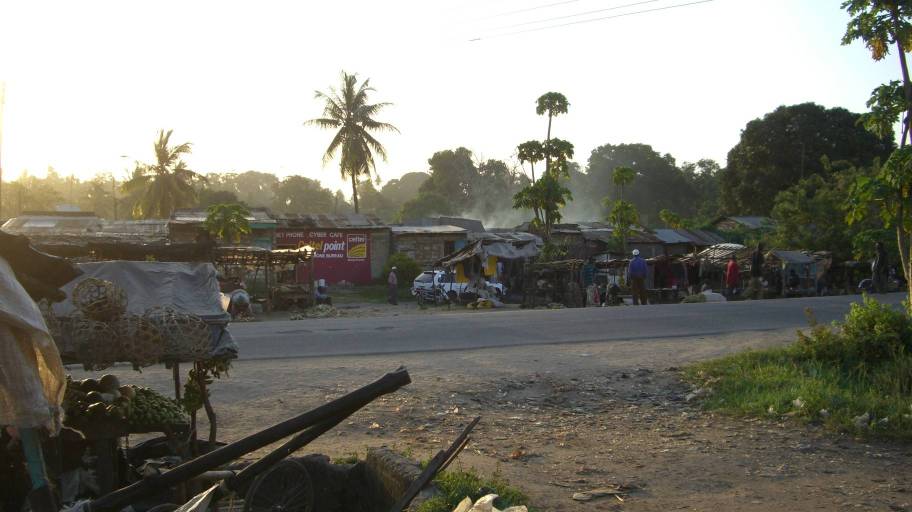 The story of Ukunda-Diani is one of a town with two sections. Ukunda the gateway region to Diani is a bee hive of activities with all sorts of businesses established. This range from Mobile Money transfer services, boutiques, electronic shops, hotels and guest houses, micro finance institutions like Faulu and Kenya Women Finance Trust and major banks in Kenya including; Kenya Commercial Bank, Co-operative Bank, Barclays Bank, Equity Bank, Diamond Trust Bank and Post Bank.  The town is also home to Ukunda Airstrip managed by the Kenya Airports Authority to serve the tourism sector. Then there is Diani the place of wonder and excitement with lines of hotels that create the booming tourism industry that is the backbone of the Ukunda-Diani story.
The story of Ukunda-Diani is one of a settlement of beautifully constructed hotels and business centers that can be as expensive to the millions, then there is the many semi permanent parts with poor housing the local people occupy, a story depicting the poor people do not benefit much from the tourism.
The area however seems to be on the move with a lot of academic Institutions ranging from Primary, Secondary to Tertiary level.  The Kenya Medical Training College in Msambweni, The Nairobi University Campus in Ukunda and others offer college education.
Ukunda-Diani is a holiday travel destination that any tourist, local or international, should visit just to enjoy the waters of the Coast. The residents of the Ukunda welcome the Kenyan abroad initiative saying, "They will bring more tourists."
Connect with us on Social Media
Call us on +254 720 824 502 / +254 720 823 229 for a visit to Ukunda. 
Visit our WEBSITE  for more offers