A pulsing pink swathe of life that carpets the water, as far as the eye can see, Lake Nakuru is a must see for bird lovers and provides the Kenya Safari visitor with one of Kenya's best known images.
On the shore white rhino and water buck grazed among troops of foraging baboons. Although Lake Nakuru National Park is a haven for wildlife of all sorts, it's the flamingos that have earned it its fame. Dubbed the world's "greatest bird spectacle." Expect a great sighting on your visit to the park as you will not be disappointed.
Nakuru is the most accessible, and popular, of the soda lakes of the Great Rift Valley. Apart from being the best lake for viewing flamingos in vast numbers, it offers even more.
From a vantage point on a ridge, one can track the lake shore and the pink hue that smudged most of the perimeter. An occasional splash of white indicates groups of pelicans that occasionally visit this lake.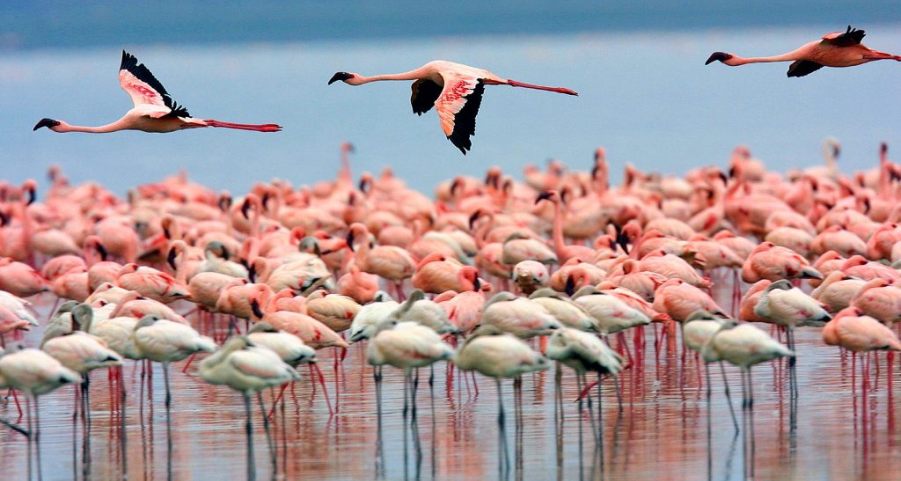 Park authorities here stocked the lake with small alkaline-tolerant fish in the 1960s in a bid to control mosquito larvae. The fish bred rapidly and in turn attracted a wider variety of birds to the lake.
The area is a depression, not unlike Ngorongoro, with the lake dominating the scene. From the shore, plains of grass reach into forests of fever trees that hug the ridges.
Game in Nakuru is plentiful. On the drive in you are likely to see impala, defassa waterbuck, white rhino and big herds of buffalo on the open grasslands. A special sighting at Nakuru is the Rothschild giraffe, introduced into the park for their special protection. With its distinct patterning, the Rothschild matches the reticulated giraffe of the north for dramatic looks.
Although it doesn't have elephants as there's concern that they would damage the fever tree forests, the park is a sanctuary for the white rhino.
If you are on a Kenya Safari you are likely to visit this park as a stopover to other parks and often Silverbird Travel plus itineraries that start in Nairobi will often have the park included on your itinerary or as a stopover to other parks like the Masai Mara game reserve but even spending one night here is a unique experience because the park is very different to the likes of Masai Mara.
Apart from the spectacle of the flamingos, Lake Nakuru National Park offers visitors great wildlife and with enough time to appreciate the area, a stay here will be a highlight on any safari.
Our Recommended Safaris that have Nakuru National Park Included in the itinerary Are:-
5 Nights/6 Days Safari: Samburu/Lake Nakuru/Masai Mara
6 Nights/7 Days Safari: Lake Nakuru/Maasai Mara/Mombasa
Connect with us on Social Media
Call us on (+254) 737 991981 / 733 203050 for packages to Lake Nakuru National Parks
Visit our WEBSITE  for more offers