Welcome to Tanzania a country that has been listed by Fox TV News as one of top five of the World's Most "STUNNINGLY BEAUTIFUL" Countries to visit. Tanzania boasts Africa's highest mountain, Mount Kilimanjaro. It is a dormant volcanic mountain in Tanzania and the highest free standing mountain in the world at 5,895 metres or 19,341 feet above sea level.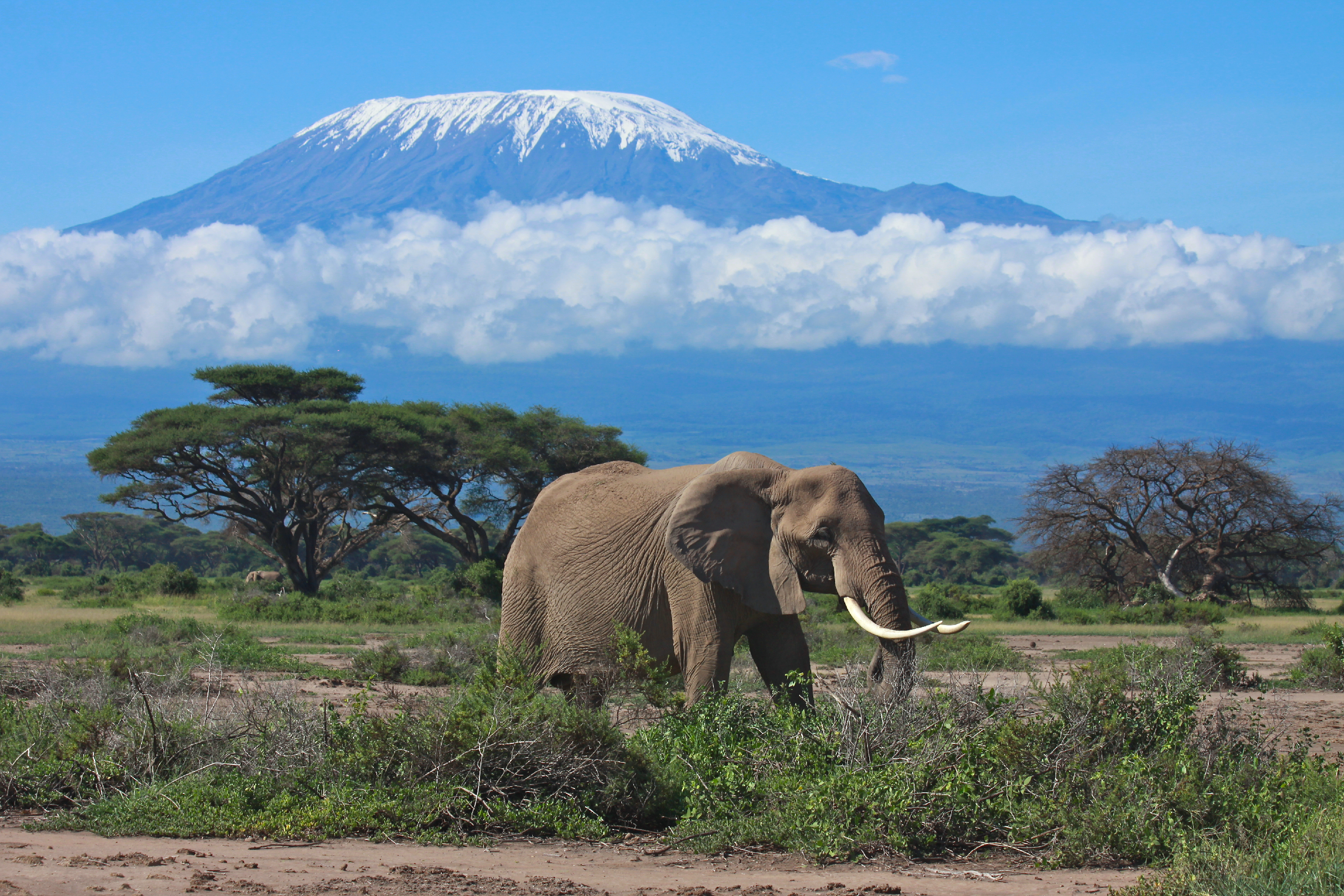 The closest International Airport is Kilimanjaro (JRO). If coming from Europe KLM (Delta Air Line) has daily non-stop flights from Amsterdam to JRO. If coming from Nairobi, Kenya you can fly with Kenya Airways which works with Precision Air.
Mt. Kilimanjaro experiences dry and wet seasons. January and February are the warmest months, April and May are the wettest months, June and July are the coolest months, and August and September are the driest months. January, February, and September are considered to be the best months to climb Kilimanjaro in terms of weather.
Kilimanjaro is composed of three distinct volcanic cones: Kibo, the highest, Uhuru Peak Uhuru Peak is the highest summit on Kibo's crater rim; Mawenzi; and Shira, the shortest. The mountain is a stratovolcano and of its three peaks, Mawenzi and Shira are extinct, while Kibo is dormant and could erupt again. The major eruption has been dated to between 150,000 and 200,000 years ago.
On a visit to Tanzania you can trek the Mountain but if you wish to trek to the summit of Kilimanjaro you are advised to undertake the appropriate research and ensure that you are properly equipped and physically capable of undertaking the challenge.
It has seven official trekking routes by which to ascend and descent Mount Kilimanjaro. The routes are Lemosho, Machame, Marangu, Mweka, Rongai, Shira, and Umbwe and of all of them Machame is considered the most scenic, albeit steeper. The route and can be done in six or seven days. The Rongai is the easiest and least scenic of all camping routes.
The mountain is rich in flora and fauna. Here you get a chance to see the various climatic conditions starting from the bush land on the bottom of the mountain to the arctic ice region on top of the mountain. There are also the tropical rain forests, the evergreen forests, the moorlands and the alpine desert regions in between and it feels like walking from the equator to the arctic pole in a matter of days. The mountain offers you a chance to see some unique plants and flowers on the mountain which is specific to Mt Kilimanjaro. Even though there is not much of wildlife on the mountain, you can see some wild buffaloes, elephants and leopards while traversing through the Lemosho Route.