Dubai in UAE is popular for its nightlife scenes, beaches, highrise buildings, grand shopping malls, luxury hotels, unique museums and zoos and a lot more. It has ideal top places to visit, We present you some of the most happening tourist places to visit in Dubai that every traveller must explore.
1. Burj Khalifa one of top places to visit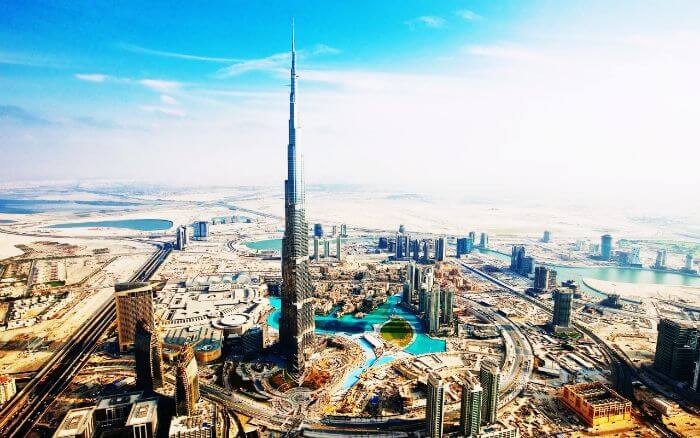 Do we need to say more? Burj Khalifa, the landmark building is on every traveller's list of tourist places to visit in Dubai. The staggering bird eye views from the 124th floor are an experience of a lifetime, with the desert covering one side and the turquoise blue ocean on the other.
2. Burj Al Arab
One of top places to visit  in Dubai is the Burj Al Arab. It is the fourth tallest hotel in the world and the most expensive '7-star hotel' which holds many feats. Burj Al Arab is beautifully lit up in the evening by choreographed lighting and offers a myriad experience of exploring the Dubai attractions.
3. Jumeirah Beach
Jumeirah beach is amongst the most popular places to visit in Dubai, ideal for all travelers. With a series of exotic hotels lined up throughout the road leading to the beach, world-class facilities and majestic sunset views at the beach make for a picture-perfect destination.
4. Dubai Mall
Popularly known for its shopping extravaganza festivals– 'Dubai shopping festival' and 'Dubai Summer Surprises', this mall is for the shopaholics who are sure to be spoilt for choices. Dubai Mall provides entry to Burj Khalifa and also houses the famed Dubai Aquarium and is loaded with an array of entertainment options – gaming zone, ice skating rink and multiplex.
5. Magnificent Sheikh Saeed Al
Sightseeing in Dubai is incomplete without a visit to the house of Sheikh Saeed Al Maktoum, which houses the Dubai Museum of Historical Photographs and Documents giving a glimpse of Dubai's history. The house is the epitome of Arabic architecture, which has a splendid design, coupled with luxurious interiors, it creates the top places to visit in Dubai
6. Wild Wadi
Wild Wadi is a popular amusement park located in front of Burj Khalifa, which is packed with some fun-filled rides of more than 25 types. This is a perfect place to enjoy with your family while getting to know about the Arabian folklore, upon which Wild Wadi is based.
7. Dubai Creek
The creek is natural seawater, which cuts through the center of the city. Tourists could take a boat or abra to view the port on the other side. The picturesque view of the town, enriched by the history of Dubai makes it one of the most romantic tourist places and one of top places to visit in Dubai.
8. Deira Souks
Attention Shopaholics! Your paradise for unlimited shopping is right at the most popular tourist place in Dubai – Deira Souks. Get the essence of Dubai's business culture. There is a market for all types of spices to souks for just gold or the textile souks – shop to your heart's content from the wide array the city has to offer.
9. Dubai Aquarium
Have you been to an underwater zoo? Yes, one exists! Visit Dubai Aquarium, is one of the popular top places to visit in Dubai which has varied activities, including an underwater zoo, glass bottom boat tours, cage snorkeling and shark diving. It's a unique mix of experience, so be sure to have some fun!
10. Global Village
The global village is a destination which provides a wonderful international shopping experience as well as entertains you with some of the best performances from artists all over the world. The Global village also has food joints, serving delicious cuisine.
Details: Open from November to March every year.
RELATED CONTENT
Travel offers to Dubai and other far East destination